Let's Understand The Idea behind making money with APIs.
We are not Google or Facebook, nor do we have a company or valuable data. So why would developers bother to buy our APIs?
And what we could provide as an API, as we have nothing to provide!
We will solve this issue in Section 2. We will see how to find the best Ideas to develop and how we can provide valuable data even if you have nothing! I am super excited about that part, but I must stick to the course structure and move step by step to make everything clear.
So let's now focus on understanding the blueprint. And see how we, as simple human beings 😅, can establish an income stream online with APIs.
We mainly have two ways to make money with APIs:
Build and Sell APIs
Consume an API and Build Your own tool or SAAS.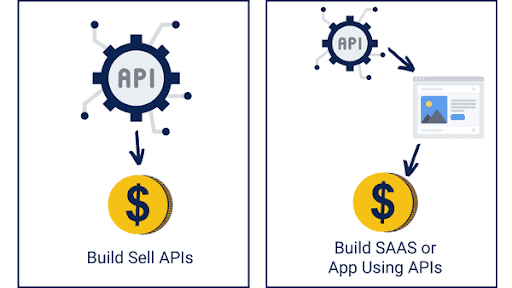 1. Build and Sell APIs.
And this is what this course is all about. And this is what we will cover in detail in the next sections.
The idea is simple. You will find an idea that can solve a specific problem for certain people.
Then, You will build and Host the API. After that, you will List the API on Marketplaces like RapidAPI. Then, you will promote the API. And you will establish a recurring monthly income.
2. Develop a tool, app, or SAAS based on APIs.
The second method is to build a tool's website based on APIs.
This website can be a free tool or a SAAS subscription-based website. Or even a mobile app!
I do this with PromoterKit and built many tools based on third-party APIs.
For example, the Hashtag Generator Tool is built on top of the Hashtagy API on RapidAPI.
The keyword tool is built on top of Google Ads API, and the AI tools are built on top of OpenAI API and NLP Cloud.